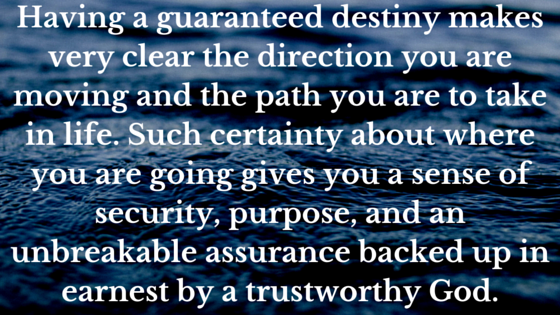 Introduction
Before I dive into this lesson, I want to establish one simple rule. This rule makes what may seem complicated exceedingly simple. It is the rule that you must always come back to if you feel confused or unsure with any of the information that I am about to explain.
The Rule: God is sovereign.[1]
The New Oxford American Dictionary defines sovereign as a "supreme ruler" or one who "possesses supreme or ultimate power." Basically, when the typical person thinks of "God" they think of an all-powerful ruler who answers to no one but himself. Being sovereign is one of God's characteristics, proven by the 30 (and by no means exhaustive) Bible references in the footnotes of The Rule. So, if an idea suggests that God is not sovereign, then that idea contradicts the Bible. If an idea contradicts the Bible, which is God's Word, then that idea contradicts God. If an idea contradicts God, Who is sovereign, what that idea is really saying is that God cannot be God. This is very dangerous territory. So, the short version of this perilous chain is that if God is not sovereign, then God is not God.
The implication of this rule specific to predestination is also very simple: Salvation is of The Lord.[2] The only thing we can do for God is bring Him our sins. He takes care of everything else.
Keep The Rule in the back of your mind for this lesson. Every credible idea or concept must obey The Rule. If an idea doesn't obey The Rule, then it's certainly wrong because it doesn't obey God, it rejects His deity, and it rejects what the Bible teaches us about The Lord.
Let's begin.
What is predestination?
In Ephesians 1:3-12, the apostle Paul writes the following:
"Blessed be the God and Father of our Lord Jesus Christ, who has blessed us with every spiritual blessing in the heavenly places in Christ, just as He chose us in Him before the foundation of the world, that we would be holy and blameless before Him. In love He predestined us to adoption as sons through Jesus Christ to Himself, according to the kind intention of His will, to the praise of the glory of His grace, which He freely bestowed on us in the Beloved. In Him we have redemption through His blood, the forgiveness of our trespasses, according to the riches of His grace which He lavished on us. In all wisdom and insight He made known to us the mystery of His will, according to His kind intention which He purposed in Him with a view to an administration suitable to the fullness of the times, that is, the summing up of all things in Christ, things in the heavens and things on the earth. In Him also we have obtained an inheritance, having been predestined according to His purpose who works all things after the counsel of His will, to the end that we who were the first to hope in Christ would be to the praise of His glory." (emphasis added)
Predestination refers to the sovereign[3] choice of God.
The English word predestination is translated from the Greek word proozizō, meaning "to determine beforehand" or "to decide in advance." Predestination is a combination of the prefix pre and the word destination. A destination is a place that you're going, and pre means before. So as it pertains to time, predestination means a decision has been made of where you are going before you even take your first step. Of course, the agent of predestination, or the One who decides, is God. As the text says, "He chose us … according to the kind intention of His will … according to His purpose who works all things after the counsel of His will." Because God is timeless and eternal, this decision happened, "before the foundation of the world."
People tend to use the word predestination as it pertains to God making a decision beforehand about the destinies of people. Properly speaking, predestination refers to the predetermination of everything. The term election is the most technically accurate term as it applies to those people chosen by God to be saved.
Election, then, is a type of predestination that pertains specifically to salvation. God predestined, for example, for Earth to be located between Venus and Mars. Earth, however, was never elected because the Earth is not a person. Because it was predetermined that Moses would be elected, Moses was therefore saved. Election is a subset of predestination, and election is more restrictive. For the rest of this lesson, I will go back and forth using these terms, but please keep this differentiation in mind.
Wayne Grudem defines election as "an act of God before creation in which he chooses some people to be saved, not on any account of any foreseen merit in them, but only because of his sovereign good pleasure."[4] Election is an important concept because it clarifies the start of God's grace in dealing with particular individuals. That is, and as we shall learn, before the foundation of the world, God chose to bring salvation to specific people. Election signals that before we were even born, God's grace was already in effect and had a predetermined plan for our lives.
The why and how of predestination
The next question that arises is why does God predestine some people for salvation? The simplest answer is that God is God, and the universe works according to His purpose.
II Timothy 1:8-9 says, "God, who has saved us and called us with a holy calling, not according to our works, but according to His own purpose and grace which was granted us in Christ Jesus from all eternity." Because God is sovereign, these are the types of calls that He makes. The Bible does not offer a precise description of how God chooses, and thus this is a secret thing that belongs to The Lord.[5] What is clear is that He predestined us "according to the kind intention of His will, to the praise of the glory of His grace, which He freely bestowed on us." In other words, predestination is initiated by God and is freely given to us. There isn't anything that we do that affects our destiny, so our salvation is not conditional on our actions.[6] If our destiny was conditionally based on our actions, what does that imply? That implies that God makes a decision based upon what I do. If that is the case, then God isn't sovereign. And if God isn't sovereign, then God isn't God. Election is in fact unconditional, meaning it is not subject to any conditions. Unconditional election simply refers to the fact that the basis of our election has nothing to do with God seeing something in us that's worthy. Again, the reason, or the why of predestination lies in God's secret will.[7] Isaiah 43:7 tells us why human beings were made (to glorify God), and thus God's glory stands above human choice.
Many contemporary circles suggest that somehow we choose to follow Christ. The idea that we are born "OK" and thus can choose God isn't a new idea at all. Way back in the 5th century, a man by the name of Pelagius touted this idea, but orthodox Christianity has since labeled him a heretic. Pelagius began with the premise that God could not command us to do anything that we are incapable of executing. Thus, because of our "free will," we are morally responsible for our actions. This, of course, rejects what the Bible teaches us about original sin: none are good by their own merit (Romans 3:10-11), and because of the original sin of Adam in the Garden of Eden, sin entered the world and infected everyone for all time (Romans 5:12).
Of course, if you follow Pelagius's thinking and declare that we are born "OK"—and that someone would "choose" to follow God—a frightening conclusion arises: since some can in fact choose the "right" path, we have no need for Jesus, no need for His sacrifice on the Cross, and no need for faith. So, while some believers may have sincere intent in their subscription to the belief that we choose God, one ought to fully consider how that understanding, when applied to God, drastically alters the terrain of Christianity. In short, this interpretation means that Jesus died in vain, dismantling the entire Christian faith. In fact, Pelagius would also say that original sin doesn't exist.
Predestination is predicated on the foreknowledge of God and is executed based exclusively on the will of God. How do we know this? This brings us to what Reformed theology calls the "golden chain of salvation":
foreknowledge -> predestination -> calling -> justification -> glorification
The golden chain logically answers the question of what is the precise order by which people are saved. This process involves predestination. Romans 8:29-30 says:
"For those whom [God] foreknew, He also predestined to become conformed to the image of His Son, so that He would be the firstborn among many brethren; and these whom He predestined, He also called; and these whom He called, He also justified; and these whom He justified, He also glorified."
So, our salvation begins with the foreknowledge of God. All those whom God foreknew, He predestined. All those whom He predestined, He called. All those whom He called, He justified. And all those whom He justified, He glorified. (Glorification refers to being raised from the dead in new imperishable bodies, having eternal life, and being in heaven with The Lord forever.)[8] Foreknew comes from the Greek word proginōskō, meaning, "to know beforehand." The Bible tends to make a distinction between mentally "knowing" a person and a profound, intimate affection for them.[9]
The foreknowledge of God, then, is much more than simply being aware of the choice someone will make. It involves a deeper sense of a person's sincere heart condition. So, God knows much more than "the facts" about the choices we make. He knows us on a personal level. Many opponents of predestination say that it is God's knowledge of the "facts" of our choices beforehand that compels Him to choose some over others. A serious relationship, just like marriage, involves much, much more than the facts of the matter. In fact, God is a loving God, and love tends to act against "the facts" and what is reasonable. If God just knew "the facts" of our humanity, He would be compelled to choose no one because of the overriding "fact" of sin.
Hence, what Romans 8:29-30 does say is that our predestination is preceded by God's foreknowledge. What this text does not say is that God's foreknowledge is conditional on something.
Our salvation, then, begins with God, not us.
In fact, when we place Romans 8:29-30 in the context of Romans chapter 8, we discover a general theme of the sovereignty of God. Thus Paul writes, "God causes all things to work together for good to those who love God, to those who are called according to His purpose … God is the one who justifies" (emphasis added; verses 28 and 33).
Theologically speaking, there are two types of calls. The first is the external call, which is the preaching of the Word. Many people can hear the external call, but not everyone who receives this call will be justified. For example, someone may come to church one Sunday, hear the message, remain highly disinterested, and never come back. This also helps to make sense of Jesus's words in Matthew 22:14, "For many are called, but few are chosen." The internal or effectual calling happens when the Holy Spirit operatively and irresistibly regenerates a person and allows them to respond to the internal call with faith. It is by this faith that a person is justified. Faith, of course, is also a gift from God:
For by grace you have been saved through faith; and that not of yourselves, it is the gift of God; not as a result of works, so that no one may boast. For we are His workmanship, created in Christ Jesus for good works, which God prepared beforehand so that we would walk in them. (emphasis added; Ephesians 2:8-10)
As another example, when Paul and Barnabas began preaching the gospel to Gentiles, Luke writes in Acts 13:48 that, "when the Gentiles heard this, they began rejoicing and glorifying the word of the Lord; and as many as had been appointed to eternal life believed" (emphasis added). Because of this appointment (election), they responded to and believed the truth of the gospel. In Romans 11:7 (ESV), the apostle Paul writes that the reason some Israelites were saved and others were not is because of election: "Israel failed to obtain what it was seeking. The elect obtained it, but the rest were hardened" (emphasis added).
When Paul writes to believers in the church in Thessalonica, he writes, "For we know, brothers loved by God, that he has chosen you, because our gospel came to you not only in word, but also in power and in the Holy Spirit and with full conviction. You know what kind of men we proved to be among you for your sake" (emphasis added; I Thessalonians 1:4-5, ESV). Notice as well that Paul writes of the full conviction of the Holy Spirit. It's not partial conviction or hoped-for conviction but full conviction. The Greek word for conviction is plērophoria, meaning full assurance. First, when the Holy Spirit convicts you, you become convicted. The compulsion is irresistible. Second, Paul knew who among the believers in Thessalonica were elected by who responded to the call of the gospel.
Peter begins his first epistle by addressing his letter "To God's elect" (I Peter 1:1, NIV) and latter refers to the same group as a race "chosen" by God (I Peter 2:9).
In fact, because the predestination of God affects everything, even some angels were chosen: "I solemnly charge you in the presence of God and of Christ Jesus and of His chosen angels, to maintain these principles without bias, doing nothing in a spirit of partiality" (emphasis added; I Timothy 5:21).[10]
II Thessalonians 2:13 says, "But we should always give thanks to God for you, brethren beloved by the Lord, because God has chosen you from the beginning for salvation through sanctification by the Spirit and faith in the truth" (emphasis added).
So, what does this all mean? It means that all those in this life who will ever have faith and believe God have faith and believe God because they have been predestined. Romans 8:29-30 reveals that we have faith because we were first elected. Election is causal; therefore, election causes the faith necessary for salvation. Faith does not cause someone to be elected.
Romans 9:10-16 says:
"And not only this, but there was Rebekah also, when she had conceived twins by one man, our father Isaac; for though the twins were not yet born and had not done anything good or bad, so that God's purpose according to His choice would stand, not because of works but because of Him who calls, it was said to her, "The older will serve the younger." Just as it is written, "Jacob I loved, but Esau I hated."
What shall we say then? There is no injustice with God, is there? May it never be!For He says to Moses, "I will have mercy on whom I have mercy, and I will have compassion on whom I have compassion."So then it does not depend on the man who wills or the man who runs, but on God who has mercy.
Paul makes our understanding of predestination very simple by citing a classic example. Jacob and Esau were twins. They were brothers. They shared the same womb. So before they did anything, and before they even had the ability to choose, God's purpose is what predetermined the outcome of events—and the outcome of events was independent of either brother. Also, twin brothers are as similar as you can get. The implication was that if there was something in Jacob that God saw was "good," then He should have also "seen" that same good thing in Esau. This isn't the case. And the reason God's purpose predetermined the outcome of events is simply that God is sovereign. And again, if God is not sovereign, then God is not God.
Now you may be saying to yourself, "That's not fair!" Well, in our finite understanding, that may give the impression of unfairness, but in God's dispositional will, He is "patient toward you, not wishing for any to perish but for all to come to repentance."[11] In Ezekiel 33:11, God also says, "I take no pleasure in the death of the wicked, but rather that the wicked turn from his way and live. Turn back, turn back from your evil ways! Why then will you die, O house of Israel?" Ultimately, God desires that everyone come to know the truth,[12] but this is not reality.
To address the question of fairness, Paul writes the following in Romans 9:20-24:
"On the contrary, who are you, O man, who answers back to God? The thing molded will not say to the molder, "Why did you make me like this," will it? Or does not the potter have a right over the clay, to make from the same lump one vessel for honorable use and another for common use? What if God, although willing to demonstrate His wrath and to make His power known, endured with much patience vessels of wrath prepared for destruction? And He did so to make known the riches of His glory upon vessels of mercy, which He prepared beforehand for glory, even us, whom He also called, not from among Jews only, but also from among Gentiles."
Justice is very fair. God's justice says that because of one sin, the irrevocable penalty is death. Fair justice says that a violation of one of God's commandments buys you a ticket to eternal damnation. But guess what? God is also gracious and merciful, and the grace and mercy He offers aren't fair at all. God doesn't have to give us His grace, but He does. God doesn't have to show us mercy, but He does. If mercy is "deserved" then it's not, by definition, mercy. John Doe is not inherently better than Susie Q if he is elect because nothing in him made him "more worthy." The sacrifice of Jesus on the Cross wasn't "fair" (for God) at all because God owed us nothing, but out of "unfairness" (to Himself), the elect receive the gracious gift of salvation because of election.
"What shall we say then? There is no injustice with God, is there?"[13] Of course not. God could have not chosen both Jacob and Esau, and that would have been perfectly fair and perfectly just. People who dispute unconditional election use it as fuel to label God as unrighteous, but this is a view that is man-centered, not God-centered. In a man-centered view, things have to make sense to me. Here, God can't truly be sovereign because my choice matters. Here, God isn't God. In a God-centered view, God is sovereign and God is God. God could have elected no one and thus saved no one. What He chose to do out of kind intention is to save some.
You may also say that predestination seems offensive. That's because it is. Predestination turns people away. Look at what Jesus (Who implicitly confirms predestination) says in John 6:43-44, "No one can come to Me unless the Father who sent Me draws him; and I will raise him up on the last day" (emphasis added). So who draws? God does. What does draw mean? It comes from the Greek word helkyo, meaning to "draw by inward power, to compel." Notice that "him" is not active in this verse; he is a passive recipient and is drawn by the Father. Also notice that if God compels someone and His grace is resistible, then the person has more power than God. In this case, God is not sovereign, and therefore, God is not God.
And look at what Jesus says in John 6:64-68:
"But there are some of you who do not believe. For Jesus knew from the beginning who they were who did not believe, and who it was that would betray Him. And He was saying, "For this reason I have said to you, that no one can come to Me unless it has been granted him from the Father." As a result of this many of His disciples withdrew and were not walking with Him anymore. So Jesus said to the twelve, "You do not want to go away also, do you?"
Jesus essentially says that no one can come to Him lacking an allowance from the Father.
The other objection to the sovereign choice of God is that that election seems to be random, like God rolls the dice and whenever He gets a three, someone gets elected. Ephesians 1:5 says that those whom God elected are chosen "according to the kind intention of His will." Yes, God's choice is independent of us, but that doesn't mean it's random or arbitrary—it's based upon kind intention so that "all things may work together for good" (Romans 8:28). In fact, for example, in the Church, God executes specific intention by gifting specific things to specific people for specific purposes.[14]
Paul drives the point home when he paraphrases Exodus 33:19 and reiterates what The Lord explained to Moses: "I will be gracious to whom I will be gracious, and will show compassion on whom I will show compassion." Election does not "depend on the man who wills or the man who runs, but on God who has mercy."[15]
What predestination is not
Predestination does not make us robots.
Predestination itself was a free, voluntary choice made by God, and that choice was made in love.[16] If God wanted "robots" to glorify Him, then He wouldn't have needed to bother with our creation at all. He just would of had to make robots. Jesus came into our world because of God's love.[17] Love is always relational—it's never mechanistic. Love is always voluntary and free. This is why Jesus invites people to come to Him,[18] but some still refuse that invitation because they are free to do so.[19] Unbelievers have a chance to come to Christ but choose not to do so.[20]
Predestination does not mean people are chosen based on faith.
I touched upon this is in the discussion of Jacob and Esau. In the New Testament, Romans 11:5-6 states, "In the same way then, there has also come to be at the present time a remnant according to God's gracious choice. But if it is by grace, it is no longer on the basis of works, otherwise grace is no longer grace."[21] Our faith as a condition for predestination would be a form of "works." As we have already learned in WCSK: Volume I, one of the central tenets of the Christian faith is that we are saved by grace alone through faith alone.[22] Grace makes faith possible.
Predestination does not make gods out of people; "freedom" does.
This is an interesting philosophical point to consider. If God is really God, then God is sovereign. If God is sovereign, then He knows the truth about what will happen in the future, and history is determined based on His sovereign will. If, however, your eternal fate is not determined by God, and one clings to their autonomous, libertarian, "free will" or "freedom" as the ultimate determinant of their ultimate fate, then how is free will not more powerful than God Himself? If eternal fate is not determined by God and is determined by "fate"—or an impersonal Star Wars type of "force"—then aren't these mystical forces indeed more powerful than God? In both of these hypothetical scenarios, God is not sovereign, and therefore God cannot be God.
Looking into the future and determining what a person will do—regardless if that choice ultimately rests in God's control or humankind's—is still pre-determinism. Any choice that we make in life—whether it's choosing a mate or what to have for lunch—is influenced by something. Being externally influenced does not rob us of our will; in fact, this makes us human. The Bible never teaches that human beings are autonomous, being free from external influence. It does say that we are free to make choices within the contours of a world that God made. This is exactly why neither you nor I can jump up and fly to China because we cannot override the laws of physics that God had made. We can, however, choose to buy a plane ticket and fly to Beijing, or instead, take a beach vacation in Grenada. The choice is yours.
Join me next week to find out what positive effects predestination has in your life, what you can do with your guilt, and how you can be sure that you're saved.
Dr. C. H. E. Sadaphal
[1]I Chronicles 29:11-12; II Chronicles 20:6; I Samuel 2:6; Isaiah 14:24, 45:7, 46:9-10, 55:8-11; Jeremiah 27:5, 32:27; Job 23:13, 42:2; Psalm 103:19, 115:3, 135:6; Proverbs 16:4, 16:9, 16:33, 19:21, 21:1; 21:30; Ecclesiastes 7:13-14; Lamentations 3:37; Daniel 4:35; Matthew 28:18; Romans 8:28, 9:18; Colossians 1:16-17; Ephesians 2:10; I Timothy 6:15
[2] Jonah 2:9; Psalm 37:39
[3] For more on God and His characteristics, please refer to What Christians Should Know Volume I (#WCSK), Part II: Who God Is.
[4] Wayne Grudem, Systematic Theology (Grand Rapids, MI: Zondervan, 1994), 670
[5] Deuteronomy 29:29
[6] The prescient view of election is conditional, meaning that before you were born, God looks down the corridor of time and observes how you will respond to Him. Conditional on your response, He then predestines you.
[7] It is worth mentioning here as well the theology called Arminianism, a school of thought that is upheld, generally speaking, by the Methodist church and in some evangelical circles. Essentially, Arminianism elevates human free will to something that is autonomous and "free" from external influence. The argument goes that "free" will cannot, in fact, be free if that will is predetermined. Resultantly, an individual can resist God's grace, a person can become "unsaved" by falling from grace, and the person is the final arbiter of his or her election by choosing God. Basically, in Arminianism, my choice can override God's will. Thus, God is not sovereign, and therefore, cannot be God. The other pressing eschatological question that all Arminians must deal with is that if you are "free" not to choose God, what value does that "freedom" really have if it irrevocably allows you to choose eternal damnation? Furthermore, it must necessarily be the case as well that God wills something (human choice) more than He does salvation. The problem here is that this dynamic violates Scripture (I Timothy 2:5-6 and II Peter 3:9).
[8] Isaiah 45:25; John 6:44; I Corinthians 15:51-54; Philippians 3:21; I Thessalonians 4:16-17; I John 3:2-4; Revelation 21:1-22:21
[9] See Romans 8:9; I Corinthians 8:3; Galatians 4:9
[10] And if you really want to get theologically fancy, we know that the devil was an angel who was cast out of heaven (Luke 10:18; II Peter 2:4; Revelation 12:9). God predestined angels. So, because of predestination, the devil did not catch The Lord by surprise. Without election, our future would be damnation. Because of election, human beings are chosen to inherit eternal life. That sounds like a great bargain to me considering the alternative: no election at all.
[11] II Peter 3:9
[12] I Timothy 2:4
[13] Romans 9:14
[14] I Corinthians 12:11
[15] Romans 9:16
[16] Ephesians 1:5, NIV
[17] John 3:16
[18] Isaiah 55:1-13; Matthew 11:28; Revelation 22:17
[19] Matthew 23:37; John 5:40
[20] John 8:43-44; Romans 1:20, 9:20
[21] See also II Timothy 1:9
[22] Ephesians 2:8-9