Worship is the topic of our last lesson because everything in the Christian's life should ultimately end at worship. Each and every thing that we do should be aimed at glorifying God. In this general sense, worship encompasses the totality of a person's thoughts and deeds.
The Hebrew word for worship is shacah, which means to prostrate, to pay obeisance or to bow down in the presence of a superior. God is very clear that we ought never to worship anything other than Him. The Greek word for worship is proskuneo, which means to fawn or crouch to, to show reverence or to adore. By implication, these definitions clarify that worship is something that we do in the presence of God when we are both aware of Him and adore Him (thought), and, thus, we glorify Him (action) through singing and praising, for example.
The aforementioned action may also involve other people and our interactions with them. For example, Colossians 3:16 says, "Let the word of Christ richly dwell within you, with all wisdom teaching and admonishing one another with psalms and hymns and spiritual songs, singing with thankfulness in your hearts to God." Only God is worthy of worship, and this is why the first of the Ten Commandments is, "You shall have no other gods before Me" (Exodus 20:3). Exodus 34:14 says, "For you shall not worship any other god." Not even those beautiful, awesome and magnificent spiritual creations of God that serve Him are worthy of worship.[1] Only The Lord is worthy to be praised and receive glory and honor because He and He alone created all things and is the first cause of everything. Revelation 4:11 says, "Worthy are You, our Lord and our God, to receive glory and honor and power; for You created all things, and because of Your will they existed, and were created." God will not give His glory to another,[2] and He is also a jealous God.[3] This jealousy should not conjure up ideas of a crazy lover or an overly emotional and irrational person; rather, it should make us keenly aware that when we divert worship away from the place where it truly belongs, this dishonors God and insults Him. God seeks His own honor because, as I hope I have made clear in the last nine lessons, everything He has done is not only worthy of that reverence, but it is also totally unmerited by us. On top of all of that, even though God is deserving of adoration, He never forces our hand. Instead, he invites us to voluntarily worship Him. And, in that voluntary worship, we are to use our gifts to always glorify[4] God and never glorify and bring attention to ourselves.
In the book of Isaiah, the prophet gives all human beings the meaning of life and specifically tells us why God made us: "Bring My sons from afar And My daughters from the ends of the earth, Everyone who is called by My name, And whom I have created for My glory, Whom I have formed, even whom I have made" (italics mine; 43:6-7). Ephesians 1:12 (NIV) says, "In order that we, who were the first to put our hope in Christ, might be for the praise of his glory" (emphasis added).
Glory is part of the worship formula because when you worship something, you also glorify it and sacrifice to it. The root of the word glory refers to honor, quantity, heaviness or something's physical weight. Hence, if you glorify something, you essentially put the "weight" and quantity of your thoughts, attention and resources into that thing—it's the thing you consider to be the most important. Sacrifice and glory go hand in hand because if you invest all your resources in something, you find yourself taking away from something else in order to glorify "it." We sacrifice in order to glorify. The ideal is to worship God and Him alone but, for example, people may worship their jobs and, consequently, put all their "weight," time and resources into their occupations. In so doing, they sacrifice their health, friends, and families to bring glory to "it." Romans 11:36-12:1 mentions the glory and sacrifice involved in worship: "For from Him and through Him and to Him are all things. To Him be the glory forever. Amen. Therefore I urge you, brethren, by the mercies of God, to present your bodies a living and holy sacrifice, acceptable to God, which is your spiritual service of worship."
The opposite of worshipping God is idolatry. Consequently, idolatry is…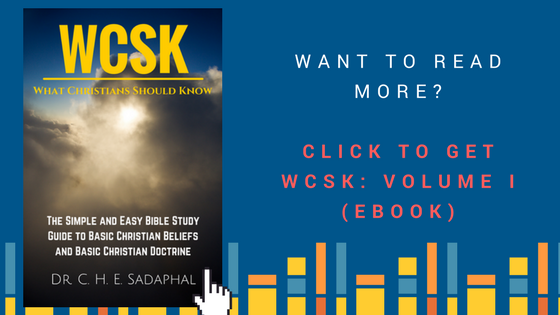 Dr. C. H. E. Sadaphal
[1] Revelation 22:8-9
[2] Isaiah 48:11
[3] Exodus 20:5
[4] I Peter 4:11
[5] For example, Isaiah 2:2-4, 25:6-8, 66:18-21; Jeremiah 49:6
[6] Revelation 4:8-11, 5:11-14
[7] Luke 24:53
[8] Hebrews 10:19
[9] Proverbs 30:3; Psalm 33:4; John 17:17; II Timothy 2:15; Hebrews 4:12
[10] Galatians 5:22-23
[11] Wayne Grudem, Systematic Theology (Grand Rapids: Zondervan, 1994), 1011.
[12] Matthew 5:24; I Timothy 2:8; I John 4:20
[13] I Peter 3:7
[14] Hebrews 12:15
[15] I Corinthians 14:33
[16] Matthew 5:8; I John 3:21; c.f. James 4:8
[17] Hebrews 12:14