How this principle applies to your everyday life: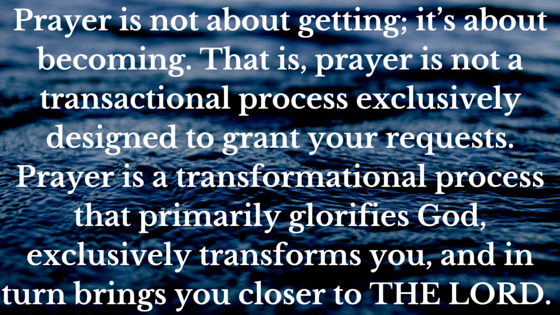 The Lord's Prayer
"Pray, then, in this way: 'Our Father who is in heaven, Hallowed be Your name. Your kingdom come. Your will be done on earth as it is in heaven. Give us this day our daily bread. And forgive us our debts, as we also have forgiven our debtors. And do not lead us into temptation, but deliver us from evil. For Yours is the kingdom and the power and the glory forever. Amen'" (Matthew 6:9-13).
Introduction: What is Prayer?
Wayne Grudem defines prayer as "personal communication with God."[1]
Prayer is the outward expression of the inward faith that we have in God. 
Our faith means we believe God and trust in Him. Although our salvation is by grace alone through faith alone, that faith is never unaccompanied—hence, faith is the fuel that animates prayer.[2] Because we depend on The Lord, we pray to Him and communicate with Him. The act of prayer in and of itself points to the reality that we are speaking to Someone greater than us in every way possible. God does not shun our prayers as an indifferent despot; he invites them and delights in them as a Father who desires to provide for His children. Jesus says:
So I say to you, ask, and it will be given to you; seek, and you will find; knock, and it will be opened to you. For everyone who asks, receives; and he who seeks, finds; and to him who knocks, it will be opened. Now suppose one of you fathers is asked by his son for a fish; he will not give him a snake instead of a fish, will he? Or if he is asked for an egg, he will not give him a scorpion, will he? If you then, being evil, know how to give good gifts to your children, how much more will your heavenly Father give the Holy Spirit to those who ask Him? (emphasis added; Luke 11:9-13)
Prayer brings us into deeper fellowship with The Lord. Human beings are the workmanship of God (Ephesians 2:10), and we were created for God's glory (Isaiah 43:7). Prayer is a means to glorify God and thus to fulfill our purpose in Christ. Prayer is the expression by a sensible, subordinate creation of its dependence on a holy, omnipotent, merciful, giving, and eternal Creator.
In prayer, we bow down before The Lord and bring ourselves under His watchful eye. Although He already knows what you're thinking, what you're going to say, and what you need, He still grants you the privilege to enter into His court and address the King. In fact, God welcomes the repentant with open arms. Miraculously, the only thing you need to enter into in His holy presence is a sincere, faithful heart and to begin by saying "Our Father."
Prayer is multi-directional and multi-dimensional. That is, we are speaking to God, but He then speaks back to us in a figurative sense. (And, in some unique cases, He literally answers back in word or deed.)[3] Also, prayer is not simply just asking God for something but has several distinct components. The effects of prayer touch every aspect of our Christian lives.
Prayer is not something God gave us for His benefit. It is for our benefit, an invitation of grace so that we may enter into His presence. 
The central goal of a Christian's life is to become more like Christ, who obeyed God perfectly. Prayer fuels our obedience and in and of itself is an act that compels the ones praying to humble themselves before God. Prayer is what energizes our spiritual lives. Just as the Holy Spirit is the One who opens our hearts to receive God's Word, the Spirit also compels us to open our mouths to adore, confess, give thanks, and petition the Father.[4]
God used His words to shape and fashion the universe (Genesis 1), and thus it is clear that His words are divine currency that purchase the raw material of our reality. In turn, our natural words materialize our spiritual desires as they arrive at God's ear. It is clear that prayer is not something that everyone does, because due to the fallen nature of humanity, there is a tendency to reject God and therefore no desire to engage in prayer. However, within each member of God's regenerated elect, there is a new, inherent desire to commune with The Lord.
Prayer is something that is well-known among believers but is also something that is well-neglected. In my humble opinion, if there ever was a secret to sanctification or to becoming more holy, it would be prayer. All the former saints who were titans of the Christian faith were irrevocably titans of prayer. Prayer is so important that it is one of the few things that human beings can do just as God does.[5] In the context of the Trinity, the Holy Spirit compels our hearts to pray and reveals to us what to say,[6] and there is a conduit between us and the Father—Jesus, who makes intercession for us.[7] Our prayers are made effective because of Jesus, the Great High Priest[8] and mediator[9] between humankind and God.
Because we are all sinful, and because we all pray for our sakes, when we approach the King of Kings through prayer, it becomes quite clear that we cannot and must not approach and speak to the King in any old way. The way one speaks and acts must honor the presence of the One who stands before you. If you speak and talk to God like He is your co-worker or your fishing buddy, then you have already decided that you and He are on the same level. Nothing could be farther from the truth.
Why Should We Pray?
We pray to glorify God, and when a person glorifies God, they reap benefits. So while prayer is a strict requirement of the Christian faith, it is not something that is without profit to us. We pray because I Thessalonians 5:17 says, "Pray without ceasing." We pray because in order to be molded and shaped and receive from God, we have to prepare our vessel. Prayer facilitates this preparation.
We pray because it can change …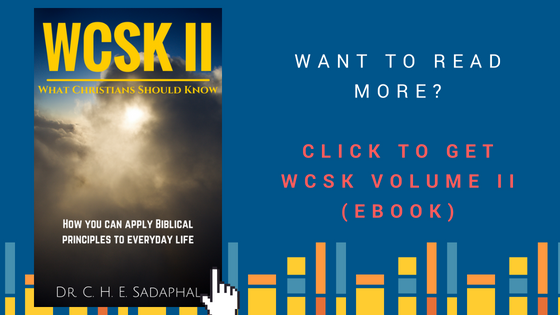 Dr. C. H. E. Sadaphal
[1] Wayne Grudem, Systematic Theology (Grand Rapids, MI: Zondervan, 1994), 376.
[2] Matthew 21:22, c.f. Mark 11:24; James 1:6-8, 5:14-15.
[3] For example, see I Kings 18:36-39.
[4] Romans 8:26-27.
[5] Some examples of Jesus praying: Matthew 11:25-26, 14:22, 15:36, 19:13-15; Mark 1:35-36, 7:31-37; Luke 5:15, 6:12-13, 9:18, 9:28-29, 10:21, 11:1; John 6:11, 11:41-42, 12:27-28, 17:1-16.
[6] And thus praying "in the Spirit." See Ephesians 6:18 and Jude 20; c.f. Ephesians 2:18; Revelation 1:10.
[7] Romans 8:34; Hebrews 7:25.
[8] Hebrews 4:14-15, 7:26-27, 10:19, 22.
[9] I Timothy 2:5.
[10] Genesis 32; Judges 15, 16; II Kings 19; Jeremiah 29:11-15; Matthew 21:22; Mark 9:29; John 14:13-14; Acts 9:40; James 1:5; I John 5:14-15.
[11] See Luke 18:1-8.
[12] For example, see Matthew 6:9; John 16:23; Ephesians 5:20.
[13] Acts 7:59; Revelation 22:20.
[14] For example, Matthew 11:25-26.
[15] John 14:13-14, 15:16; c.f. Ephesians 5:20.
[16] Matthew 6:9-13 (The Lord's Prayer where Jesus told His disciples how to pray); Acts 1:24-25; Revelation 6:10, 22:20.
[17] Acts 3:6.
[18] Acts 16:18.
[19] I Corinthians 5:4.
[20] Proverbs 22:1; Ecclesiastes 7:1.
[21] Matthew 26:39; I John 5:14-15.
[22] Wayne Grudem, Systematic Theology (Grand Rapids, MI: Zondervan, 1994), 382-391.
[23] For examples of prayer and fasting, see Nehemiah 1:4; Esther 4:3; Daniel 9:3; Joel 2:12-13; Luke 2:37 and Acts 13:2.
[24] Luke 22:44.
[25] Proverbs 15:29.
[26] Psalm 109:7, Proverbs 28:9.
[27] I Peter 3:7.
[28] Isaiah 59:1-2.
[29] See also Psalm 139:1-4.
[30] II Corinthians 12:8; c.f. Mark 14:39.