How this principle applies to your everyday life: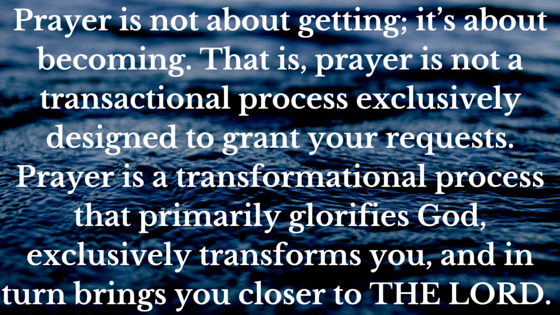 The Lord's Prayer
"Pray, then, in this way: 'Our Father who is in heaven, Hallowed be Your name. Your kingdom come. Your will be done on earth as it is in heaven. Give us this day our daily bread. And forgive us our debts, as we also have forgiven our debtors. And do not lead us into temptation, but deliver us from evil. For Yours is the kingdom and the power and the glory forever. Amen'" (Matthew 6:9-13).
Introduction: What is Prayer?
Wayne Grudem defines prayer as "personal communication with God."[1]
Prayer is the outward expression of the inward faith that we have in God. 
Our faith means we believe God and trust in Him. Although our salvation is by grace alone through faith alone, that faith is never unaccompanied—hence, faith is the fuel that animates prayer.[2] Because we depend on The Lord, we pray to Him and communicate with Him. The act of prayer in and of itself points to the reality that we are speaking to Someone greater than us in every way possible. God does not shun our prayers as an indifferent despot; he invites them and delights in them as a Father who desires to provide for His children. Jesus says:
So I say to you, ask, and it will be given to you; seek, and you will find; knock, and it will be opened to you. For everyone who asks, receives; and he who seeks, finds; and to him who knocks, it will be opened. Now suppose one of you fathers is asked by his son for a fish; he will not give him a snake instead of a fish, will he? Or if he is asked for an egg, he will not give him a scorpion, will he? If you then, being evil, know how to give good gifts to your children, how much more will your heavenly Father give the Holy Spirit to those who ask Him? (emphasis added; Luke 11:9-13)
Prayer brings us into deeper fellowship with The Lord. Human beings are the workmanship of God (Ephesians 2:10), and we were created for God's glory (Isaiah 43:7). Prayer is a means to glorify God and thus to fulfill our purpose in Christ. Prayer is the expression by a sensible, subordinate creation of its dependence on a holy, omnipotent, merciful, giving, and eternal Creator.
In prayer, we bow down before The Lord and bring ourselves under His watchful eye. Although He already knows what you're thinking, what you're going to say, and what you need, He still grants you the privilege to enter into His court and address the King. In fact, God welcomes the repentant with open arms. Miraculously, the only thing you need to enter into in His holy presence is a sincere, faithful heart and to begin by saying "Our Father."
Prayer is multi-directional and multi-dimensional. That is, we are speaking to God, but He then speaks back to us in a figurative sense. (And, in some unique cases, He literally answers back in word or deed.)[3] Also, prayer is not simply just asking God for something but has several distinct components. The effects of prayer touch every aspect of our Christian lives.
Prayer is not something God gave us for His benefit. It is for our benefit, an invitation of grace so that we may enter into His presence. 
The central goal of a Christian's life is to become more like Christ, who obeyed God perfectly. Prayer fuels our obedience and in and of itself is an act that compels the ones praying to humble themselves before God. Prayer is what energizes our spiritual lives. Just as the Holy Spirit is the One who opens our hearts to receive God's Word, the Spirit also compels us to open our mouths to adore, confess, give thanks, and petition the Father.[4]
God used His words to shape and fashion the universe (Genesis 1), and thus it is clear that His words are divine currency that purchase the raw material of our reality. In turn, our natural words materialize our spiritual desires as they arrive at God's ear. It is clear that prayer is not something that everyone does, because due to the fallen nature of humanity, there is a tendency to reject God and therefore no desire to engage in prayer. However, within each member of God's regenerated elect, there is a new, inherent desire to commune with The Lord.
Prayer is something that is well-known among believers but is also something that is well-neglected. In my humble opinion, if there ever was a secret to sanctification or to becoming more holy, it would be prayer. All the former saints who were titans of the Christian faith were irrevocably titans of prayer. Prayer is so important that it is one of the few things that human beings can do just as God does.[5] In the context of the Trinity, the Holy Spirit compels our hearts to pray and reveals to us what to say,[6] and there is a conduit between us and the Father—Jesus, who makes intercession for us.[7] Our prayers are made effective because of Jesus, the Great High Priest[8] and mediator[9] between humankind and God.
Because we are all sinful, and because we all pray for our sakes, when we approach the King of Kings through prayer, it becomes quite clear that we cannot and must not approach and speak to the King in any old way. The way one speaks and acts must honor the presence of the One who stands before you. If you speak and talk to God like He is your co-worker or your fishing buddy, then you have already decided that you and He are on the same level. Nothing could be farther from the truth.
Why Should We Pray?
We pray to glorify God, and when a person glorifies God, they reap benefits. So while prayer is a strict requirement of the Christian faith, it is not something that is without profit to us. We pray because I Thessalonians 5:17 says, "Pray without ceasing." We pray because in order to be molded and shaped and receive from God, we have to prepare our vessel. Prayer facilitates this preparation.
We pray because it can change the ways in which God operates in the world. In other words, prayer changes people and circumstances.
In Exodus 32:14, for example, God steers his course of action away from harm after a prayer by Moses (verses 11-13). Additionally, God Himself expressed the power of prayer to change the way He acts in II Chronicles 7:14 when he said, "and My people who are called by My name humble themselves and pray and seek My face and turn from their wicked ways, then I will hear from heaven, will forgive their sin and will heal their land" (emphasis added).
James 5:16 says that "the effective prayer of a righteous man can accomplish much." This verse is this the most succinct answer to the question "Why should I pray?" In fact, the prayers of the righteous are one of the means God utilizes to bring events to pass in our natural realm. Furthermore, prayer produces real-life dividends. Biblically speaking, these dividends have no pre-defined limit, so if something is the will of God and someone asks earnestly and according to His will, the effects of prayer know no bounds. Several passages describe the awesome power of prayer.[10] Here are some examples:
"Ask, and it will be given to you; seek, and you will find; knock, and it will be opened to you" (Matthew 7:7).
"And Jesus answered and said to them, 'Truly I say to you, if you have faith and do not doubt, you will not only do what was done to the fig tree, but even if you say to this mountain, 'Be taken up and cast into the sea,' it will happen. And all things you ask in prayer, believing, you will receive'" (Matthew 21:21-22).
"Therefore I say to you, all things for which you pray and ask, believe that you have received them, and they will be granted you" (Mark 11:24).
"If you abide in Me, and My words abide in you, ask whatever you wish, and it will be done for you" (John 15:7).
Notice, though, that the James 5:16 verse mentions effective prayer of a righteous person. I will explain what effective prayer is shortly, but prayer ceases to be effective when performed by an unrighteous person. Hence, "We know that God does not hear sinners; but if anyone is God-fearing and does His will, He hears him" (John 9:31).
When Should We Pray? How Long? How Often? To Whom? In the name of Jesus or not?
There are no explicit Biblical answers to most of these questions. Isaiah 50:4 speaks of God giving the prophet a "tongue of disciples" in the morning, but there is no Biblical prescription for when or how often to pray. There are descriptions in Psalms 55:17 and Daniel 6:10 of praying three times day. Furthermore, Jesus is described throughout Matthew, Mark, Luke, and John as praying during all hours of the day (and night). Ephesians 6:18 tells us to pray at all times. Paul gives the church at Colossae the global instruction to "devote yourselves to prayer" (Colossians 4:2), and in some instances, prayer can occur over long periods of time for a specific petition.[11]
The great German Reformist theologian Martin Luther is said to have prayed for one hour on good days. On bad days he prayed for at least two. Some of my seminary professors allocate two to three hours daily to prayer and devotion. Again, there is no strict time limit or minimum given in the Bible.
Of course, there will be times in our lives when we need to be closer to God, and our prayer time will increase. Trials, adversity, and big decisions warrant more prayer time. For example, in Luke 6:12, Jesus prayed for the "whole night" prior to choosing His apostles. These individuals would become the core group of twelve men (minus one) who would go out into the world and spread the gospel. This was clearly a monumental decision that required divine guidance, and Jesus, by necessity, drew closer to God to obtain that guidance.
Generally speaking in the New Testament, prayers are addressed to the Father through Jesus,[12] but there are some instances where people pray directly to Jesus.[13] It must be noted that for obvious reasons, Jesus never prays to Himself. He only prays to the Father.[14]
In specific occasions[15] in the New Testament, Jesus mentions to His disciples to pray in His name. Prayer for Jesus, our Great High Priest, is categorized as a function of His priestly office. Jesus still prays and intercedes for humanity in heaven, and thus when we pray "in the name of Jesus," we aren't invoking magic but are entreating the One who mediates for us. For example, in John 16:23-24, Jesus says, "Truly, truly, I say to you, if you ask the Father for anything in My name, He will give it to you. Until now you have asked for nothing in My name; ask and you will receive, so that your joy may be made full."
Yet, many of the prayers in the New Testament do not mention "in the name of Jesus" including The Lord's Prayer![16] Yet, in the name of Jesus, Peter heals a crippled man,[17] and Paul rebukes an unclean spirit[18] and pronounces judgment.[19] Back in ancient times, people didn't have business cards or personal homepages where you could learn all about them. So, a name was really all a person had to hang their character and reputation on.[20] Saying or doing something in someone else's name meant that you were acting on their prior approval. Thus, praying in the name of Jesus means you are praying based on the authorization, character, and reputation of Christ.[21] And, because we are praying based on the Person of Christ, saying "in the name of Jesus" is never magic nor will it guarantee results—it does, however, force the person praying to realize that what they are praying about has to be consistent with Jesus's character if the phrase is to have any meaning. So, no, you can't pray for a Bentley "in the name of Jesus." As with everything else we've learned thus far, God is always more concerned with your internal heart condition than any outward works, acts, or formulas. Consequently, a sincere prayer without "in the name of Jesus" from someone faithfully seeking God is not void.
How to Pray: A.C.T.S. and The Lord's Prayer
Wayne Grudem writes that effective praying is characterized by being in accordance to God's will, faith, obedience, confession, forgiveness, humility, continuing over time, sincerity, patience, being in private but also done with others, and often being connected with fasting.[22], [23] All of these characteristics will be clarified in what follows.
Generally speaking, there is a simple way to memorize how to pray: ACTS. It stands for Adoration, Confession, Thanksgiving, and Supplication. 
So, the first part of a prayer (adoration) involves fervent[24] expression of deep love, respect, and worship of God. Hebrews 13:15 says, "Through him then let us continually offer up a sacrifice of praise to God, that is, the fruit of lips that acknowledge his name" (ESV). Psalms 150:6 says, "Let everything that has breath praise the Lord! Praise the Lord! (ESV)." Praise denotes superiority for God and humility for us. The prayer of adoration, then, reflects this dynamic and is never conversational. If you're curious what exactly to say to express adoration, by and large the Book of Psalms contains many different types of prayers that are filled with adoration. Getting stuck on adoration usually means you either don't know what to say or you don't know Who you're admiring. Answers to both questions are found all throughout the Bible. For example, Psalms 19 reads as follows:
The heavens are telling of the glory of God; and their expanse is declaring the work of His hands. Day to day pours forth speech, and night to night reveals knowledge … The law of the Lord is perfect, restoring the soul; the testimony of the Lord is sure, making wise the simple. The precepts of the Lord are right, rejoicing the heart; the commandment of the Lord is pure, enlightening the eyes. The fear of the Lord is clean, enduring forever; the judgments of the Lord are true; they are righteous altogether. They are more desirable than gold, yes, than much fine gold; sweeter also than honey and the drippings of the honeycomb. (Verses 1-2, 7-10)
Second, confession is quite straightforward: In the presence of a holy and just God, we recognize His magnificence and our iniquities, and thus we confess our sins so that God may forgive us. Your answer to the question of how often you sin also answers the question of how often you should confess (at least daily). Christians know that God is merciful, but they fail to realize that forgiveness is preceded by confession. I John 1:9 says, "If we confess our sins, He is faithful and righteous to forgive us our sins and to cleanse us from all unrighteousness" (emphasis added). King David, a well-known sinner and psalmist, wrote all of Psalms 51, which is essentially a confessional prayer. His confession was predicated on God's undeserving grace, so David didn't say, "Hey God, I confess, I repent, now pardon me," but he instead pleaded for God to restore him by the mercy of His grace alone. Atonement, or reparation for sin, is never a matter of human effort.
Third, thanksgiving recognizes all that God has done for us and proclaims that everything that we have is a gift of grace from The Lord. Take note that thanksgiving is a visible act, an outward expression of inward gratitude. Hence, a lack of gratitude tends not to yield thanksgiving, and ingratitude usually goes to bed with disrespect (c.f. Romans 1:21). This is basically the world's position when it comes to God. I Thessalonians 5:18 says, " In everything give thanks; for this is God's will for you in Christ Jesus." Philippians 4:6 says, "Be anxious for nothing, but in everything by prayer and supplication with thanksgiving let your requests be made known to God." Psalms 103:2 says, "Bless the Lord, O my soul, and forget none of His benefits."
Fourth, our supplications are where we petition God to do something for others and ourselves. There is no Biblical restriction on what you can ask God for so long as it falls in line with His expressed will. John 15:7 says, "Ask whatever you wish, and it will be done for you." Mark 11:24 says, "Therefore I say to you, all things for which you pray and ask, believe that you have received them, and they will be granted you." I Timothy 2:1-4 says, "First of all, then, I urge that entreaties and prayers, petitions and thanksgivings, be made on behalf of all men, for kings and all who are in authority, so that we may lead a tranquil and quiet life in all godliness and dignity. This is good and acceptable in the sight of God our Savior, who desires all men to be saved and to come to the knowledge of the truth" (emphasis added). Of course, asking God doesn't guarantee you will receive something, and not receiving often happens because we are not specific in our requests, or our motives are impure: we are rebelling against God, we are impatient, or we are asking for something we already have or for something that we honestly do not need. The last point emphasizes the fact that God will never give you something that you will misuse or that will destroy you.
ACTS equips you with a very general formula of what to say. Notice that one begins by praising God and ends with asking for something. Some folks just skip the ACT and go straight to the S, failing to realize what prayer really is and forgetting to whom they are speaking. Sometimes I can't get my wife to do a favor without saying something nice or complimentary first, and God is a much stricter audience than Mrs. Sadaphal.
ACTS is derived from the Scriptures, not something made explicit by God. However, cognizant of the paramount importance of prayer, Jesus gave us a specific blueprint—The Lord's Prayer—on exactly how to pray. The Lord's Prayer is located in Matthew 6:9-13, and Luke 11:2-4 gives a more concise version. Jesus explains the Prayer in detail in response to a request by the disciples: "Lord, teach us to pray just as John also taught his disciples" (Luke 11:1). Before Jesus answers this question in Matthew 6, He first makes mention of what not to say. In Matthew 6:5-8, Christ says:
When you pray, you are not to be like the hypocrites; for they love to stand and pray in the synagogues and on the street corners so that they may be seen by men. Truly I say to you, they have their reward in full. But you, when you pray, go into your inner room, close your door and pray to your Father who is in secret, and your Father who sees what is done in secret will reward you. And when you are praying, do not use meaningless repetition as the Gentiles do, for they suppose that they will be heard for their many words. So do not be like them; for your Father knows what you need before you ask Him.
In other words, Jesus qualifies prayer by first stating what it is not supposed to look like. When we pray to God, there is a particular character of our communication that separates it and distinguishes it from our communication with others. Anyone anywhere in the world can "pray" at any time, but as it pertains to the God of the Bible, "praying" doesn't necessarily mean you're engaging in godly prayer. Hence, un-godly prayer is characterized by who does it (the hypocrites), where they do it (only in public), why they do it (for selfish reasons) and how they do it (according to worldly patterns).
The word "hypocrite" is derived from hypokrite in Greek, which means an actor under an assumed character or a stage-player. Hypokrites have no sincere internal motivation to draw closer to God but put on a mask to put on a show "so that they may be seen by men" and draw attention to themselves. Thus hypocritical prayer is done in public for the purpose of spectacle. Jesus subsequently follows up His disapproval of public prayer with His approval of private prayer: "When you pray, go into your inner room, close your door and pray to your Father who is in secret." Of course, this does not condemn believers coming together as a unified body in earnest, sincere prayer for the purposes of God, as Paul writes in I Timothy 2:8: "I want the men in every place to pray, lifting up holy hands, without wrath and dissension" (emphasis added).
Ungodly prayer is also discussed in the Old Testament. David clarified that someone with iniquity in their heart would not be heard by God (Psalm 66:18), and that prayers from the wicked are not only unheard[25] by God but are counted as sinful.[26] Disruption in interpersonal relationships[27] and unforgiven sin[28] hinder prayer.
Finally, the how of hypocritical prayer follows a formula of endless repetition without meaning and is therefore excessively lengthy. Endless repetition is not required for a God who "knows what you need before [you] ask Him."[29] In fact, repetition runs the risk of being nothing more than repetition, and the content of what the person is saying is therefore stripped of any significance. This does not abrogate repeatedly coming to God over time with an earnest petition, for "will not God bring about justice for His elect who cry to Him day and night?" (Luke 18:7, emphasis added). Paul, for example, asked God three times to remove the figurative thorn in his side.[30]
With endless repetition, what is meant to be engaging instead becomes reflexive and divorces itself from the mind, the heart, and the spirit. This even applies to The Lord's Prayer itself—while there is certainly nothing inherently wrong about reciting the Prayer, merely repeating it without a firm understanding of what it means strips the Prayer of its meaning. Again, the key take-home point is that prayer is an external act that is driven by an internal heart condition. A heart that is focused away from God or someone who is simply "acting" will produce prayer that is hypocritical and shunned. A sincere heart condition will produce sincere prayer, and Jesus outlines what this looks like in Matthew 6: 9-13:
"Pray, then, in this way: 'Our Father who is in heaven, Hallowed be Your name. Your kingdom come. Your will be done on earth as it is in heaven. Give us this day our daily bread. 'And forgive us our debts, as we also have forgiven our debtors. And do not lead us into temptation, but deliver us from evil. For Yours is the kingdom and the power and the glory forever. Amen.'"
Note that Jesus did not say "Pray this," as in pray these exact words. Rather, He said, "Pray in this way," as in "this is the blueprint but not the actual house."
Next week we will take a look at the blueprint and break down The Lord's Prayer line-by-line.
Dr. C. H. E. Sadaphal
[1] Wayne Grudem, Systematic Theology (Grand Rapids, MI: Zondervan, 1994), 376.
[2] Matthew 21:22, c.f. Mark 11:24; James 1:6-8, 5:14-15.
[3] For example, see I Kings 18:36-39.
[4] Romans 8:26-27.
[5] Some examples of Jesus praying: Matthew 11:25-26, 14:22, 15:36, 19:13-15; Mark 1:35-36, 7:31-37; Luke 5:15, 6:12-13, 9:18, 9:28-29, 10:21, 11:1; John 6:11, 11:41-42, 12:27-28, 17:1-16.
[6] And thus praying "in the Spirit." See Ephesians 6:18 and Jude 20; c.f. Ephesians 2:18; Revelation 1:10.
[7] Romans 8:34; Hebrews 7:25.
[8] Hebrews 4:14-15, 7:26-27, 10:19, 22.
[9] I Timothy 2:5.
[10] Genesis 32; Judges 15, 16; II Kings 19; Jeremiah 29:11-15; Matthew 21:22; Mark 9:29; John 14:13-14; Acts 9:40; James 1:5; I John 5:14-15.
[11] See Luke 18:1-8.
[12] For example, see Matthew 6:9; John 16:23; Ephesians 5:20.
[13] Acts 7:59; Revelation 22:20.
[14] For example, Matthew 11:25-26.
[15] John 14:13-14, 15:16; c.f. Ephesians 5:20.
[16] Matthew 6:9-13 (The Lord's Prayer where Jesus told His disciples how to pray); Acts 1:24-25; Revelation 6:10, 22:20.
[17] Acts 3:6.
[18] Acts 16:18.
[19] I Corinthians 5:4.
[20] Proverbs 22:1; Ecclesiastes 7:1.
[21] Matthew 26:39; I John 5:14-15.
[22] Wayne Grudem, Systematic Theology (Grand Rapids, MI: Zondervan, 1994), 382-391.
[23] For examples of prayer and fasting, see Nehemiah 1:4; Esther 4:3; Daniel 9:3; Joel 2:12-13; Luke 2:37 and Acts 13:2.
[24] Luke 22:44.
[25] Proverbs 15:29.
[26] Psalm 109:7, Proverbs 28:9.
[27] I Peter 3:7.
[28] Isaiah 59:1-2.
[29] See also Psalm 139:1-4.
[30] II Corinthians 12:8; c.f. Mark 14:39.