Introduction
This is the fifth lesson in the series What Christians Should Know and will complete this examination of the core or essential doctrines of the Christian faith. Certainly, Christianity is much, much more than five principles, but these central tenets lay the foundation upon which everything else is built. The remaining five lessons will continue to educate on other basic doctrines, ideas, and principles.
All Christians must fully understand the gravity of Who Jesus Christ is to all of us. He, and He alone, is the only path to the Father, to salvation,[1] and to eternal life. This is why in John 14:6, Jesus says, "I am the way, and the truth, and the life; no one comes to the Father but through Me." The path to Heaven, the path of atonement, and the path to forgiveness of sins is irrefutably and exclusively through Jesus. There are not multiple ways, there is only one way. Anyone who suggests otherwise is a not basing their assertions on the Word of God, and is purposely contradicting The Lord.
Accordingly, to deny that Jesus is the only way is heresy. This is why Jesus says in Matthew 10:33, "But whoever denies Me before men, I will also deny him before My Father who is in heaven." Rejection of Jesus is a rejection of God,[2] and irrevocably leads to death. In what follows, I will explain why Jesus is so important and why Christless Christianity is formless and void.
I. The Incarnation and Person of Jesus Christ
Essential Doctrine:

 What Christians should know is that Jesus Christ is fully God and fully man in one person.[3]
That is, Jesus is unchangeably, indivisibly, and inseparably a union of human and divine natures in one being, not parted or divided into two persons, with the property of each nature being preserved.[4]
A simple way of saying this is that Jesus, remaining what He was (God), became what He was not (a man), and will be so forever.
The Incarnation of Jesus really is the rescue mission that God executed in order to save humanity. The word incarnate means to embody in flesh or to take form. So God became a human being and took the form of a human being by becoming flesh.[5] And this becoming did not happen after Jesus was born so that a human became God. Instead, Jesus was conceived by the work of the Holy Spirit and His virgin mother, Mary. Jesus did not have a human father.
"Now the birth of Jesus Christ was as follows: when His mother Mary had been betrothed to Joseph, before they came together she was found to be with child by the Holy Spirit. And Joseph her husband, being a righteous man and not wanting to disgrace her, planned to send her away secretly. But when he had considered this, behold, an angel of the Lord appeared to him in a dream, saying, "Joseph, son of David, do not be afraid to take Mary as your wife; for the Child who has been conceived in her is of the Holy Spirit" (italics mine).[6]
In Luke's account of Christ's birth, His conception is explained in more detail.
"Now in the sixth month the angel Gabriel was sent from God to a city in Galilee called Nazareth, to a virgin engaged to a man whose name was Joseph, of the descendants of David; and the virgin's name was Mary. And coming in, he said to her, "Greetings, favored one! The Lord is with you." But she was very perplexed at this statement, and kept pondering what kind of salutation this was. The angel said to her, "Do not be afraid, Mary; for you have found favor with God. And behold, you will conceive in your womb and bear a son, and you shall name Him Jesus. He will be great and will be called the Son of the Most High; and the Lord God will give Him the throne of His father David; and He will reign over the house of Jacob forever, and His kingdom will have no end." Mary said to the angel, "How can this be, since I am a virgin?" The angel answered and said to her, "The Holy Spirit will come upon you, and the power of the Most High will overshadow you; and for that reason the holy Child shall be called the Son of God."[7]
As a result, the conception of Jesus was very miraculous, but His birth was very ordinary.[8] The virgin birth affirms that Jesus is not some ordinary guy who has a mom and a dad just like you and me. Because He is fully God and fully man, He is very special, and His conception was necessarily miraculous. Because Mary never engaged in sexual intercourse to conceive Jesus, there was no effort on her part. This affirms that our salvation has nothing to do with human works and is totally and completely dependent on God. If Jesus did simply have a regular mom and dad that conceived Him, it certainly would be hard for anyone to believe that "god" was conceived in the same way you and I were. Furthermore, Jesus was born holy,[9] sinless,[10] and thus without any of the legal guilt of sin or inherited moral corruption as a result of Adam. Nowhere in the Bible does it say that sin is inherited from the father only, nor does it say that Mary was sinless. What the Bible does say in Luke 1:35 is that through the power of the Holy Spirit overshadowing the virgin Mary, the child she would give birth to would be holy. Christ also was without sin throughout His entire life,[11] and always conducted Himself in a manner pleasing to the Father.[12] Jesus is a "lamb unblemished and spotless."[13]
The birth of Jesus was not unexpected. His birth fulfilled several prophecies from the Old Testament, the same Scriptures that Judaism uses as its authoritative Word. The first allusion to Christ comes in Genesis 3:15, when God says that the seed of the woman (not the man) would crush the head of the serpent. Isaiah 7:14 says, "Therefore the Lord Himself will give you a sign: Behold, a virgin will be with child and bear a son, and she will call His name Immanuel." (Immanuel means "God is with us"). This prophecy is fulfilled in Matthew 1:18, 22-23. Micah 5:2 tells us where Jesus would be born, in Bethlehem: "But as for you, Bethlehem Ephrathah, too little to be among the clans of Judah, from you One will go forth for Me to be ruler in Israel. His goings forth are from long ago, from the days of eternity." Matthew 2:1 fulfills this prophecy. Finally, Malachi 3:1 tells us that Jesus will enter the temple in Jerusalem: "'Behold, I am going to send My messenger, and he will clear the way before Me. And the Lord, whom you seek, will suddenly come to His temple; and the messenger of the covenant, in whom you delight, behold, He is coming,' says the Lord of hosts." This prophecy is fulfilled in Matthew 21:12-13 and Mark 11:15. And because the temple in Jerusalem was destroyed in 70 a.d., we know that all of these events had to happen before that date, and they did.
The Incarnation highlights the intimacy God has with His creation. Jesus chose to enter into our physical realm as one of us in order to save us. This means that Jesus had breakfast, used the bathroom, and sat down and had dinner with His family just as you and I do. And He did this because God does not leave creation alone. He became one of us so we can say we have a savior who is very personable and who experienced everything that we do, including temptation,[14] weariness,[15] hunger,[16] and thirst;[17] He also grew[18] and had to study in order to learn and become wise.[19] He learned how to become obedient,[20] had a soul, and experienced personal turmoil.[21] Jesus has a real, human, physical body.[22] He is not an impersonal God detached from our reality who rules from afar, and it is because Jesus "was tempted in that which He has suffered, He is able to come to the aid of those who are tempted."[23]
Furthermore, it's one thing to say that Jesus was just a human being. It's another thing to fully embrace the idea that Jesus had to be fully human in order to save humanity. The full humanity and full deity of Christ is beautifully articulated in the timeless classic, On the Incarnation by Athanasius. (For a discussion of the full deity of Christ, see What Christians Should Know Part II: Who God Is.)
Athanasius wrote On the Incarnation in defense of Christ's full divinity and against Arianism, an emerging theology of the time that suggested Christ was begotten from the Father, therefore not eternal, and thus subordinate to the Father.
Had Christ not been wholly divine, Athanasius argues, then Christ would have needed a mediator Himself to bring us into koinonia (fellowship or community) with God, and that imperfect mediator would therein need another mediator, creating an endless succession of imperfect mediators without any resultant salvation. In short, in order to re-create creation and turn the corruptible (humans) back into the incorruptible, God needed the same substance, or Jesus, in order to bring that imperfect back to being perfect. Athanasius beautifully and repeatedly argues that the entire process is motivated by the love of God for His creation, and to suggest that He would impart upon us a less than perfect mediator would in fact demote and diminish that love motivation to less than steadfast, permanent, perpetual, and all-encompassing.
Athanasius says, "It was our sorry case that caused the Word to come down, our transgression that called out His love for us, so that He made haste to help us and to appear among us. It is we who were the cause of His taking human form, and for our salvation that in His great love He was both born and manifested in a human body." He also says, "The Word perceived that corruption could not be got rid of otherwise than though death; yet He Himself, as the Word, being immortal and the Father's Son, was such as could not die. For this reason, therefore, He assumed a body capable of death, in order that, through belonging to the Word Who is above all, and, itself, remaining incorruptible through His indwelling, might thereafter put and end to corruption for all others as well, by the grace of the resurrection."
Further explanation as to why Jesus incarnated is best summarized in Hebrews, a book of the New Testament addressed primarily to Jewish converts familiar with Old Testament prophecy. The theme of Hebrews is the absolute supremacy and sufficiency of Jesus as the revealer and mediator of God's grace. In essence, Hebrews illustrates that the bridge between humanity and God is Jesus. In 2:14-17 it says,
"Therefore, since the children share in flesh and blood, [Jesus] Himself likewise also partook of the same, that through death He might render powerless him who had the power of death, that is, the devil, and might free those who through fear of death were subject to slavery all their lives. For assuredly He does not give help to angels, but He gives help to the descendant of Abraham. Therefore, He had to be made like His brethren in all things, so that He might become a merciful and faithful high priest in things pertaining to God, to make propitiation for the sins of the people."
Jesus is our great high priest, not only because He is God but because He was also fully a man. As a result, He knows exactly what it's like to live on earth, deal with everyday problems, and struggle with real issues. Hebrews 4:14-16 says,
"Therefore, since we have a great high priest who has passed through the heavens, Jesus the Son of God, let us hold fast our confession. For we do not have a high priest who cannot sympathize with our weaknesses, but One who has been tempted in all things as we are, yet without sin. Therefore let us draw near with confidence to the throne of grace, so that we may receive mercy and find grace to help in time of need."
The verse from Hebrews 2 uses the word propitiation. Propitiation comes from the word hilaskomai in Greek, meaning, "to atone for sin, to render one's self, to make reconciliation or to expiate." In other words, Christ could only represent us before the Father if Jesus became one with us. So, propitiation means turning away God's wrath (see Leviticus 16:20-22, 17:11). In order for Jesus to turn aside the wrath of God against guilty sinners, He had to become one with us and die as a substitute for us.
Why did Jesus have to be fully human?
First, Jesus was …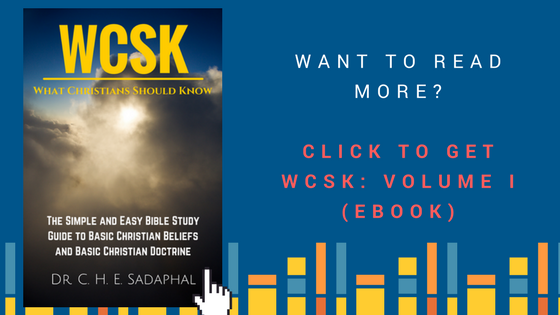 Dr. C. H. E. Sadaphal
[1] Salvation refers to the deliverance from sin and the consequences of sin.
[2] I John 2:23; II John 9
[3] This is often referred to as a hypostatic union.
[4] From the Chalcedonian Creed, 451 a.d.
[5] John 1:14; Philippians 2:7
[6] Matthew 1:18-20
[7] Luke 1:26-35
[8] Luke 2:7
[9] Luke 1:35
[10] II Corinthians 5:21; I Peter 2:22; I John 3:5
[11] John 15:10
[12] John 8:29
[13] I Peter 1:19
[14] Hebrews 4:15
[15] John 4:6
[16] Matthew 4:2
[17] John 19:28
[18] Luke 2:40
[19] Luke 2:52
[20] Hebrews 5:8
[21] Matthew 26:38; John 11:35, 12:27
[22] Luke 24:39, 42; John 20:17, 20, 27
[23] Hebrews 2:18
[24] Genesis 2:15-3:7
[25] I Corinthians 15:45
[26] I Corinthians 15:47
[27] Romans 5:18-19
[28] Galatians 6:7
[29] Genesis 1:26-28
[30] Matthew 28:18; Luke 19:17; Ephesians 1:22; Hebrews 2:9; Revelation 3:21
[31] Romans 6:23
[32] Romans 14:12; II Corinthians 5:10
[33] Jonah 2:9
[34] I John 2:4-6; cf. Romans 8:29; I Corinthians 3:18; I Peter 2:21
[35] I Corinthians 15:42-49; Colossians 1:18
[36] Luke 24:39-43; John 20:25-27
[37] Matthew 27:27-50
[38] John 3:16; cf. Romans 5:8
[39] Leviticus 16:10
[40] II Peter 2:4
[41] Luke 24:25-26
[42] Isaiah 53:6, 12; John 1:29; II Corinthians 5:21; Galatians 3:13
[43] Philippians 3:9
[44] Galatians 2:16-21
[45] Romans 3:21-26
[46] John 19:18
[47] Lee Strobel, The Case for Christ (Grand Rapids: Zondervan, 1998), 195.
[48] Isaiah 52:14
[49] John 19:34
[50] Luke 22:44
[51] Matthew 26:56
[52] Isaiah 53:11
[53] John 19:30
[54] Hebrews 9:25-28
[55] Romans 8:1
[56] I Peter 1:18-19
[57] Hebrews 9:14
[58] Hebrews 10:19
[59] I John 1:7; Revelation 1:5
[60] Revelation 12:10-11
[61] Hebrews 9:26
[62] I John 4:10
[63] II Corinthians 5:18-19
[64] Mark 10:45; Hebrews 2:15; Titus 2:14
[65] Romans 8:30
[66] Romans 5:1
[67] Romans 8:33-34
[68] Romans 4:3, 5:17; I Corinthians 1:30
[69] Luke 24:1-6, 13-17
[70] Psalm 16, 22; Isaiah 53
[71] Mark 8:31, 9:30-31, 10:33-34
[72] Acts 9:1-9
[73] Matthew 28:1-20; Mark 16:1-8; Luke 24:1-53; John 20:1-29
[74] I Corinthians 15:20, 23
[75] I Kings 17:17-24
[76] II Kings 4:18-37
[77] John 11:38-44
[78] Luke 24:39
[79] I Corinthians 15:42-44
[80] Matthew 28:9
[81] Luke 24:30
[82] John 20:27
[83] John 21:12-13
[84] Acts 10:41
[85] I Corinthians 15:17
[86] For more on circumstantial proofs of Jesus and the resurrection, I highly recommend The Case for Christ by Lee Strobel (Grand Rapids: Zondervan, 1998) or J. N. D. Anderson's "The Evidence for the Resurrection" (London and Downers Grove, Ill: InterVarsity Press, 1966).
[87] I Peter 1:3
[88] Ephesians 2:5-6
[89] Romans 6:4-11
[90] Romans 6:14
[91] Acts 1:8
[92] The Case for Christ by Lee Strobel (Grand Rapids: Zondervan, 1998), 250-251.
[93] Romans 4:25
[94] Romans 6:11
[95] I Corinthians 15:58
[96] I Thessalonians 4:17
[97] Luke 24:50-51; Acts 1:9-11
[98] Dietrich Bonhoeffer, The Cost of Discipleship (New York: Touchstone, 1959), 45.
[99] Galatians 2:16; cf. Romans 3:20
[100] Hebrews 10:1-10