Greetings to all! I trust you have had a restful summer, and I am glad you have returned for the second installment of What Christians Should Know. Let's get started.
In the last series, I spoke about faith excessively and on many occasions did not refer to "Christianity" but instead to the "Christian faith." The reason why is that faith is central to the idea of the Christian religion, central to the idea of the redemption of humankind, and central to the idea of one of the core doctrines of Christianity: that we are saved by grace alone and through faith alone.[1]
"So faith comes from hearing, and hearing by the word of Christ" (Romans 10:17).
"And whatever you ask in prayer, you will receive, if you have faith" (Matthew 21:22, ESV).
"And without faith it is impossible to please him, for whoever would draw near to God must believe that he exists and that he rewards those who seek him" (Hebrews 11:6, ESV).
And Jesus answered saying to them, "Have faith in God. Truly I say to you, whoever says to this mountain, 'Be taken up and cast into the sea,' and does not doubt in his heart, but believes that what he says is going to happen, it will be granted him. Therefore I say to you, all things for which you pray and ask, believe that you have received them, and they will be granted you. (Mark 11:22-24)
The formal Biblical definition of 'faith' can be found in Hebrews 11:1: "Now faith is the assurance of things hoped for, the conviction of things not seen." The HarperCollins Bible Dictionary defines 'faith' as "Trust in, or reliance on, God who is himself trustworthy."[2]
Let's dissect this definition from Hebrews. First, the Greek word for 'faith' in this verse is pistis. (The other Greek word used in the New Testament for faith is pisteuein; the former word is the noun, the latter is the verb.) Pistis means fidelity; the conviction of the truth of God, and particularly the reliance on Christ for salvation. This word conveys an overwhelming sense of trust. Second, notice that faith is different than hope. Faith is (present) the assurance of things hoped for (future). Faith works in the present, and that faith is grounded not in uncertainty or doubt, but in assurance. It is from this certainty, grounded in the truthfulness of God[3] and His promises that we then look forward with hope into the future.[4] Now without getting too technical with language, it is important to note that hope in a Biblical sense differs from what hope means to an American in the 21st century. In the contemporary world, someone can hope that their spouse buys them a nice gift for their birthday. They can hope that the Yankees make it to the World Series. They can hope that their toddler will not throw a tantrum when the family goes out in public. In all of these instances of hoping, the future is uncertain. But, as R.C. Sproul writes, "When the Bible speaks of hope, it is not referring to a desire for a future outcome that is uncertain, but rather a desire for a future outcome that is absolutely sure. Based on our trust in the promises of God, we can be fully confident about the outcome."[5]
Third, by implication, we now understand that faith is never "blind" or "ignorant" because God's promises are trustworthy. Because God is the truth, we therefore have assurance in our faith, which projects into the future as certain hope: "This hope we have as an anchor of the soul, a hope both sure and steadfast" (Hebrews 6:19). Faith is the assurance, which comes from the Greek word hypostasis, meaning 'concretely, the support of something, or confidence'. Faith is the assurance just as hope is an anchor—two things that are held firmly in place by something sturdy and reliable. There is no wavering, and that stance is rooted in something that has enough weight or importance to hold a ship in place against hostile tides. That anchor represents the promises of God.
Again, Hebrews 11:1 says, "Now faith is the assurance of things hoped for, the conviction of things not seen" (emphasis added). The root of the word 'conviction' in Greek is elegchos, which means 'proof or evidence.'
The fourth point: faith, then, is the proof or evidence of things not seen. Since evidence is something that we can know, this knowable proof points directly to God, who reigns over all things both seen and unseen. So while many things are unseen (e.g. the future), I have faith in and believe God who rules over and knows everything about the unseen. 
Romans 1:20 actually tells us that God reveals the unseen to us through the seen: "For since the creation of the world his invisible attributes, his eternal power and divine nature have been clearly seen, being understood through what has been made, so that they are without excuse." So while I may know nothing about the unseen, I have faith in the One who does. So if God tells me about an unseen promise, and I trust God, then I can …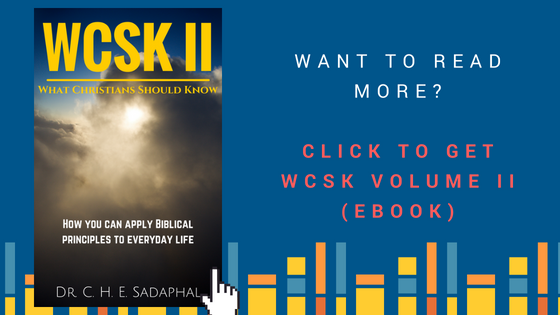 Dr. C. H. E. Sadaphal
For Further Reading
R.C. Sproul, What is Faith? (Crucial Questions Book 8) (Sanford, FL: Reformation Trust Publishing, 2010)
[1] Ephesians 2:8; Galatians 2:16-21. See also What Christians Should Know Part V: Jesus Christ
[2] Paul J. Achtemeier ed., HarperCollins Bible Dictionary (New York: Harper Collins, 1996), 326.
[3] John 14:6. For more on the characteristics of God, see WCSK Part II: Who God Is
[4] For more on God's promises and the trustworthiness of the Bible, see WCSK III: The Bible
[5] R.C. Sproul, What is Faith? (Sanford, FL: Reformation Trust Publishing, 2010), Loc 22, Kindle
[6] Deuteronomy 32:4; Psalm 18:2; Lamentations 3:22-24
[7] Titus 1:2
[8] For more on Grace, see WCSK Part VI: Grace and Stewardship
[9] Romans 3:23. For more on sin and the Fall of Man, see WCSK Part IV: Creation and Sin
[10] Ephesians 2:8-9; I Corinthians 12:9
[11] John 6:65; Romans 12:3
[12] Ephesians 1:3-4
[13] Matthew 18:3; Luke 18:17
[14] Ephesians 1:3-6
[15] Deuteronomy 7:9; I Corinthians 10:13; II Timothy 2:13; I John 1:9; Hebrews 10:23
[16] Exodus 20:1-17; I Kings 8:61
[17] Genesis 6:9, 22:1-18; Joshua 1:7-8
[18] Isaiah 42:17
[19] Psalm 5:11, 22:1-5, 62:1
[20] Paul J. Achtemeier ed., HarperCollins Bible Dictionary (New York: Harper Collins, 1996), 327.
[21] I Thessalonians 1:8
[22] I Thessalonians 4:14
[23] I Thessalonians 1:23
[24] Galatians 5:6
[25] Philippians 1:25
[26] Philippians 1:27
[27] II Corinthians 10:15
[28] I Thessalonians 2:13
[29] Romans 14:1
[30] Romans 11:20; I Corinthians 15:2
[31] I Corinthians 13:13; I Thessalonians 1:3
[32] Romans 6:8, 15:13; Galatians 5:5; II Corinthians 4:14
[33] Proverbs 16:9, 33; Jeremiah 29:11; Job 31:35; Romans 8:28
[34] For example the fifth commandment: "Honor your father and your mother …" (Exodus 20:12).
[35] I Samuel 17:37
[36] John 3:16
[37] John 3:16; Romans 6:1-6; Ephesians 2:1-6; Colossians 3:1
[38] Malachi 3:6; Hebrews 13:8
[39] R.C. Sproul, What is Faith? (Sanford, FL: Reformation Trust Publishing, 2010), Loc 212, Kindle