How this principle applies to your everyday life: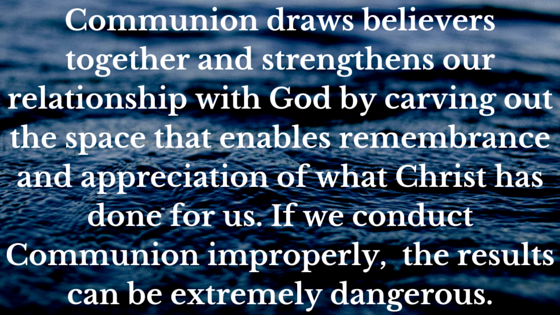 While they were eating, Jesus took some bread, and after a blessing, He broke it and gave it to the disciples, and said, "Take, eat; this is My body." And when He had taken a cup and given thanks, He gave it to them, saying, "Drink from it, all of you; for this is My blood of the covenant, which is poured out for many for forgiveness of sins. But I say to you, I will not drink of this fruit of the vine from now on until that day when I drink it new with you in My Father's kingdom" (Matthew 26:26-29; c.f. Mark 14:22-25 and Luke 22:14-20).
Introduction & Background
One of the reasons I enjoy teaching about Communion is that this fundamental idea and sacrament ties together so many themes, and neatly bridges the gap between the Old Testament and the New Testament. The central crux of the Bible tells a story of a loving God, through Jesus, who executes a rescue mission to restore a severed relationship with His people.
Communion, or The Lord's Supper, is a sign representing the restoration of fellowship with God as He invites us to sit at His table in the intimacy of a meal. Another term used for Communion is The Eucharist, derived from the Greek word eucharisto meaning, "to thank." 
A component of Communion is to come together and to "give thanks" for what Jesus has accomplished for us all.
If you learn nothing else from this lesson, the key take home point is that Communion is intended to draw people closer to God,so that they can fellowship with Him, not as isolated individuals, but as a unified community.
Communion is an ongoing ordinance that is observed repeatedly throughout our Christian walk; it is a sign of fellowship with Jesus, and brings together other believers in the body of Christ. While baptism (the other sacrament) highlights the start of a Christian's life and relationship with Jesus, Communion highlights the remembrance of what God has done for us, and the continuation of our covenantal relationship with Him. Hence, Paul writes in I Corinthians 11:25, "In the same way [Jesus] took the cup also after supper, saying, 'This cup is the new covenant in My blood; do this, as often as you drink it, in remembrance of Me'" (emphasis added).
Keep in mind that in the time of Jesus, sitting down to have a meal with someone was a pretty intimate exercise, which is why so many religious authorities ridiculed Christ for sitting down at the tables with those who were "sinners."[1] So, the context of Communion implies a closeness and familiarity with God, and those with whom you are at the table.
There are many allusions to Communion in the Old Testament. For example, after the Lord liberates the Israelites from Egyptian bondage and leads them out into the wilderness, He gives the people the Ten Commandments as a way to explicitly define expected behavior in a relationship with Him. Then, in Exodus 24:9-11 it says:
Then Moses went up with Aaron, Nadab and Abihu, and seventy of the elders of Israel, and they saw the God of Israel; and under His feet there appeared to be a pavement of sapphire, as clear as the sky itself. Yet He did not stretch out His hand against the nobles of the sons of Israel; and they saw God, and they ate and drank" (emphasis added).
In Deuteronomy 14:23-26, the law prescribed annually that as part of their tithe, the households of Israel would eat grain and drink wine in a location specified by the Lord. The people would do this and thus remember and rejoice over what God has done for them.
However, in order to truly understand what Communion is, you must first understand the Passover.
The Passover
When Jesus instituted The Lord's Supper in Matthew 26, He did so during the …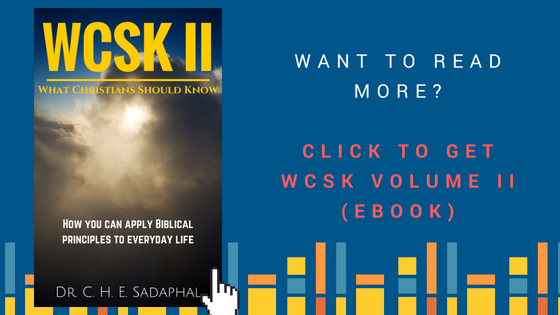 Dr. C. H. E. Sadaphal
[1] See Luke 5:27-32
[2] I Corinthians 5:7 (NIV)
[3] John 15:1
[4] John 10:9
[5] John 6:41
[6] John 14:6
[7] John 8:12
[8] The Roman Catholic Church, for example, promotes a doctrine of transubstantiation, which says that the bread and wine actually become Christ's body and blood, and that grace is imparted to those who are present ex opere operato. This Latin phrase means "by the work performed" and refers to the priest performing the sacrament, elevating the bread and declaring it to be the actual body of Christ. The obvious problem here, besides the fact that it is in blatant contradiction to the Bible, is that a human priest is given divine power and the sacrifice of Jesus is diminished from something final and finished (John 19:30; Hebrews 1:3, 9:25-28) to something that has to be repeated.
[9] Acts 1:9-12
[10] By implication means that the Bible never says, "Don't eat people" but cannibalism is described as a terrible evil when people turn away from the Lord. For example, read Leviticus 26:14-30 (esp. v. 29). See also Deuteronomy 28:53-57; Jeremiah 19:3-9; Lamentations 2:20, 4:10
[11] Genesis 9:3-8; Leviticus 17:11; Deuteronomy 12:23
[12] Matthew 5:17
[13] Matthew 18:20
[14] Revelation 19:6-10; see also Matthew 22:1-14 for the parable of the wedding feast and Jesus inviting all those who will embrace Him to His table.
[15] Leviticus 26:27-39; Deuteronomy 28:36-37, 45-68
[16] John 3:15, 5:24
[17] Hebrews 8:6, 9:15, 12:24
[18] Romans 1:17, 5:1
[19] Romans 8:2
[20] James 2:17
[21] I John 2:4-6
[22] Jeremiah 32:38-40; Ezekiel 34:30-31, 36:28; II Corinthians 6:16; I Peter 2:9-10; Revelation 21:3
[23] Acts 1:8; I Corinthians 12:13; II Corinthians 3:4-18
[24] John 1:14; Hebrews 1:1-3
[25] Luke 22:20; I Corinthians 11:25; II Corinthians 3:6; Hebrews 8:8, 13, 9:15, 12:24
[26] Luke 1:72-73; Romans 4; Galatians 3:6-18, 29; Hebrews 2:16, 6:13-20
[27] c.f. Matthew 5:23-24
[28] Ephesians 1:22, 4:12, 5:23; Colossians 1:18
[29] The Society of Biblical Literature, The Harper Collins Bible Dictionary, ed. Paul J. Achtemeier et al., (New York, NY: Harper San Francisco of Harper Collins Publishers, 1985), 623-24.
[30] R. C. Sproul, What is the Lord's Supper? (Sanford, FL: Reformation Trust Publishing, 2013), Kindle