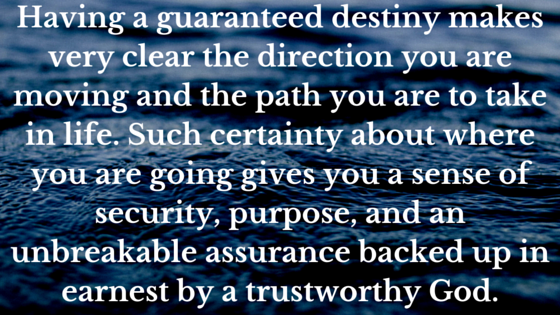 Introduction
Before I dive into this lesson, I want to establish one simple rule. This rule makes what may seem complicated exceedingly simple. It is the rule that you must always come back to if you feel confused or unsure with any of the information that I am about to explain.
The Rule: God is sovereign.[1]
The New Oxford American Dictionary defines sovereign as a "supreme ruler" or one who "possesses supreme or ultimate power." Basically, when the typical person thinks of "God" they think of an all-powerful ruler who answers to no one but himself. Being sovereign is one of God's characteristics, proven by the 30 (and by no means exhaustive) Bible references in the footnotes of The Rule. So, if an idea suggests that God is not sovereign, then that idea contradicts the Bible. If an idea contradicts the Bible, which is God's Word, then that idea contradicts God. If an idea contradicts God, Who is sovereign, what that idea is really saying is that God cannot be God. This is very dangerous territory. So, the short version of this perilous chain is that if God is not sovereign, then God is not God.
The implication of this rule specific to predestination is also very simple: Salvation is of The Lord.[2] The only thing we can do for God is bring Him our sins. He takes care of everything else.
Keep The Rule in the back of your mind for this lesson. Every credible idea or concept must obey The Rule. If an idea doesn't obey The Rule, then it's certainly wrong because it doesn't obey God, it rejects His deity, and it rejects what the Bible teaches us about The Lord.
Let's begin.
What is predestination?
In Ephesians 1:3-12, the apostle Paul writes the following:
"Blessed be the God and Father of our Lord Jesus Christ, who has blessed us with every spiritual blessing in the heavenly places in Christ, just as He chose us in Him before the foundation of the world, that we would be holy and blameless before Him. In love He predestined us to adoption as sons through Jesus Christ to Himself, according to the kind intention of His will, to the praise of the glory of His grace, which He freely bestowed on us in the Beloved. In Him we have redemption through His blood, the forgiveness of our trespasses, according to the riches of His grace which He lavished on us. In all wisdom and insight He made known to us the mystery of His will, according to His kind intention which He purposed in Him with a view to an administration suitable to the fullness of the times, that is, the summing up of all things in Christ, things in the heavens and things on the earth. In Him also we have obtained an inheritance, having been predestined according to His purpose who works all things after the counsel of His will, to the end that we who were the first to hope in Christ would be to the praise of His glory." (emphasis added)
Predestination refers to the sovereign[3] choice of God.
The English word predestination is translated from the Greek word proozizō, meaning "to determine beforehand" or "to decide in advance." Predestination is a combination of the prefix pre and the word destination. A destination is a place that you're going, and pre means before. So as it pertains to time, predestination means a decision has been made of where you are going before you even take your first step. Of course, the agent of predestination, or the One who decides, is God. As the text says, "He chose us … according to the kind intention of His will … according to His purpose who works all things after the counsel of His will." Because God is timeless and eternal, this decision happened, "before the foundation of the world."
People tend to use the word predestination as it pertains to God making a decision beforehand about the destinies of people. Properly speaking, predestination refers to the predetermination of everything. The term election is the most technically accurate term as it applies to those people chosen by God to be saved.
Election, then, is a type of predestination that pertains specifically to …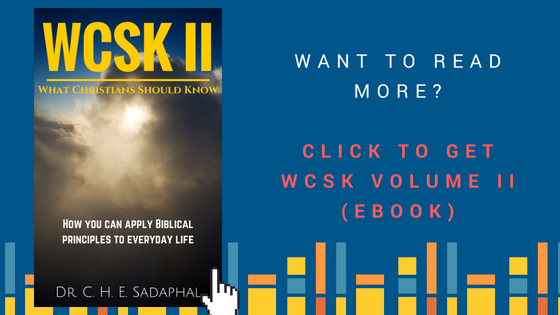 Dr. C. H. E. Sadaphal
[1]I Chronicles 29:11-12; II Chronicles 20:6; I Samuel 2:6; Isaiah 14:24, 45:7, 46:9-10, 55:8-11; Jeremiah 27:5, 32:27; Job 23:13, 42:2; Psalm 103:19, 115:3, 135:6; Proverbs 16:4, 16:9, 16:33, 19:21, 21:1; 21:30; Ecclesiastes 7:13-14; Lamentations 3:37; Daniel 4:35; Matthew 28:18; Romans 8:28, 9:18; Colossians 1:16-17; Ephesians 2:10; I Timothy 6:15
[2] Jonah 2:9; Psalm 37:39
[3] For more on God and His characteristics, please refer to What Christians Should Know Volume I (#WCSK), Part II: Who God Is.
[4] Wayne Grudem, Systematic Theology (Grand Rapids, MI: Zondervan, 1994), 670
[5] Deuteronomy 29:29
[6] The prescient view of election is conditional, meaning that before you were born, God looks down the corridor of time and observes how you will respond to Him. Conditional on your response, He then predestines you.
[7] It is worth mentioning here as well the theology called Arminianism, a school of thought that is upheld, generally speaking, by the Methodist church and in some evangelical circles. Essentially, Arminianism elevates human free will to something that is autonomous and "free" from external influence. The argument goes that "free" will cannot, in fact, be free if that will is predetermined. Resultantly, an individual can resist God's grace, a person can become "unsaved" by falling from grace, and the person is the final arbiter of his or her election by choosing God. Basically, in Arminianism, my choice can override God's will. Thus, God is not sovereign, and therefore, cannot be God. The other pressing eschatological question that all Arminians must deal with is that if you are "free" not to choose God, what value does that "freedom" really have if it irrevocably allows you to choose eternal damnation? Furthermore, it must necessarily be the case as well that God wills something (human choice) more than He does salvation. The problem here is that this dynamic violates Scripture (I Timothy 2:5-6 and II Peter 3:9).
[8] Isaiah 45:25; John 6:44; I Corinthians 15:51-54; Philippians 3:21; I Thessalonians 4:16-17; I John 3:2-4; Revelation 21:1-22:21
[9] See Romans 8:9; I Corinthians 8:3; Galatians 4:9
[10] And if you really want to get theologically fancy, we know that the devil was an angel who was cast out of heaven (Luke 10:18; II Peter 2:4; Revelation 12:9). God predestined angels. So, because of predestination, the devil did not catch The Lord by surprise. Without election, our future would be damnation. Because of election, human beings are chosen to inherit eternal life. That sounds like a great bargain to me considering the alternative: no election at all.
[11] II Peter 3:9
[12] I Timothy 2:4
[13] Romans 9:14
[14] I Corinthians 12:11
[15] Romans 9:16
[16] Ephesians 1:5, NIV
[17] John 3:16
[18] Isaiah 55:1-13; Matthew 11:28; Revelation 22:17
[19] Matthew 23:37; John 5:40
[20] John 8:43-44; Romans 1:20, 9:20
[21] See also II Timothy 1:9
[22] Ephesians 2:8-9