What repentance looks like: Psalm 51
One of the best places to look to understand what repentance looks like is to analyze Psalm 51, where King David, a man after God's own heart,[1] repents concerning his adultery with Bathsheba.
Repentance relies on God's mercy.
The first thing David writes is, "Be gracious to me, O God, according to your lovingkindness; according to the greatness of Your compassion blot out my transgressions." David realizes that it is only by the grace of God that repentance has any value. After all, theoretically speaking, people could repent and sincerely turn from their old ways but be ignored by God. Thankfully for us, this is not the case. The Bible tells us that when we confess, our sins will be forgiven (I John 1:9), that we must repent so that our sins will be blotted out (Acts 3:19), and that God Himself has an earnest desire for all people to come to repentance (II Peter 3:9).
Repentance seeks for the person to be cleansed. 
Psalm 51:2 says, "Wash me thoroughly from my iniquity and cleanse me from my sin." When we come before God and ask for forgiveness, He may pardon us, but the stain of sin remains. Hence, David asks to be thoroughly washed and to have not only his stain removed but to have a deep internal cleansing that also changes the desires of his heart. David, being truly repentant, doesn't just want God to graciously forgive him for this act; he also entreats God to change his heart condition so that he doesn't commit adultery again. David also recognizes that he cannot wash himself; only God can atone for sins.
This sentiment is further expressed in verses 7–10 when David writes, "Purify me with hyssop, and I shall be clean; wash me, and I shall be whiter than snow. Make me to hear joy and gladness, let the bones which You have broken rejoice. Hide Your face from my sins and blot out all my iniquities. Create in me a clean heart, O God, and renew a steadfast spirit within me."
Repentance admits guilt. 
Psalm 51:3 says, "For I know my transgressions, and my sin is ever before me." Basically what David is saying is, "I'm guilty." He doesn't rationalize his sin or try to pretend as if he's "OK." He doesn't say, "This is who I am" or "It just felt right at the time." David simply says, "I am wrong." The reason why David knows he's guilty is because he is aware of God's commandments, the objective scale by which David is judged. David also knows that the only thing he can do with the guilty feelings resulting from his sin is to repent, confess, and ask God for forgiveness. Just as David realizes that he can't wash himself, he also recognizes that only God can remove his guilt by forgiveness.
Repentance…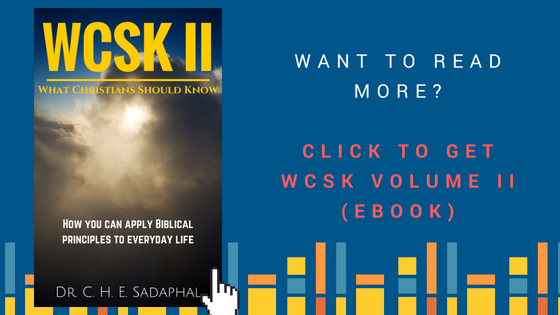 Dr. C. H. E. Sadaphal
[1] See I Samuel 13:14 and Acts 13:22.
[2] See Jonah 3:10 as a reverse example: a community of people repented and therefore God relented from bringing about disaster.
[3] Acts 20:28.
[4] See also Proverbs 16:12; Jeremiah 23:1–4; Ezekiel 34:1–8; Mark 10:42–45; cf. Psalm 33:12; Proverbs 29:12; I Timothy 3:1–5.
[5] R. C. Sproul, What is Repentance? (Sanford, FL: Reformation Trust Publishing, 2014), 28.
[6] Romans 2:4; II Peter 3:9.
[7] Luke 5:32; c.f. Luke 15:7.
[8] Genesis 15:1–21.
[9] Genesis 20:1–7.
[10] See Numbers 20:1–13.
[11] See I Kings 19:1–8.
[12] II Samuel 11.